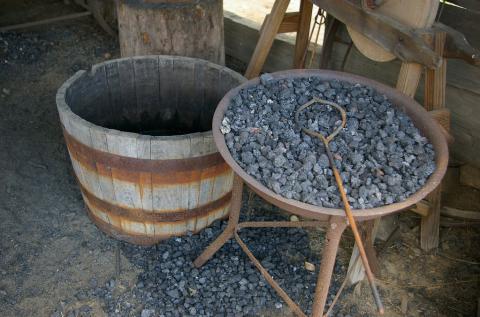 Dothan's Landmark Park blacksmith area;    Photo by [file:field-file-photographer]/[file:field-file-source] ([file:field-file-license]).
Official State Agricultural Museum of Alabama
Alabama designated Landmark Park in Dothan as the official state agricultural museum in 1992. All State Museums
Landmark Park is dedicated to preserving the cultural and natural heritage of the Wiregrass region of southeast Alabama, hosting educational programs and special events. The 100-acre park features an 1890's living history farm, a one-room schoolhouse, a general store, a turn-of the-century church, elevated boardwalks, nature trails, wildlife exhibits, a planetarium, "barnyard playground" and a picnic area.
Quote from Landmark Park's Events Schedule​: "Turn back the clock 100 years and experience living history demonstrations of sheep shearing, blacksmithing, plowing with draft animals, basket-weaving, quilting, and other traditional spring farm activities. Entertainment will include an "Old-Time Fiddlers Convention" and folk music."