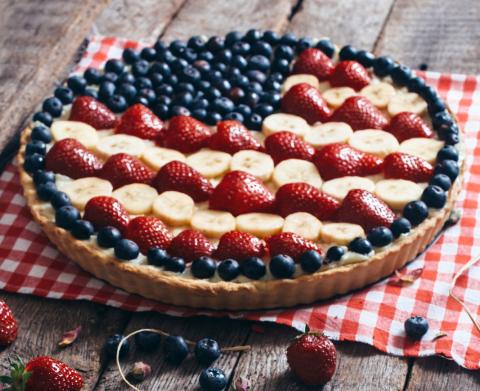 A patriotic pie celebrating the 4th of July - American Independence Day (licensed stock photo from BigStockPhoto).
Patriotic Pie for July 4th Independence Day;  .  Photo by [file:field-file-photographer]/[file:field-file-source] ([file:field-file-license]).
Holidays Observed in the USA
In a strict sense, there are no national holidays in the United States. Each of the 50 states has jurisdiction over its own holidays.
The federal government has proclaimed the following 10 dates as holidays for federal government employees, and most states observe these holidays on the same dates (commonly called "legal holidays" or "public holidays").
All government offices, post offices, banks, and many private businesses are closed on these holidays:
Federal Holidays
New Year's Day: January 1
Martin Luther King Day: 3rd Monday in January
President's Day: 3rd Monday in February
Memorial Day: last Monday in May
Independence Day: July 4
Labor Day: first Monday in September
Columbus Day: second Monday in October
Veterans Day: November 11
Thanksgiving Day: 4th Thursday in November
Christmas Day: December 25
More Holidays Observed in the USA
* Partial list; also see
State Holidays | Events
April Fool's Day: April 1
Asian/Pacific American Heritage Month: May
Chinese New Year: winter, date varies
Cinco de Mayo: May 5
Easter: Spring Sunday, date varies
Father's Day: June, third Sunday
Flag Day: June 14
Groundhog Day: February 2
Halloween: October 31
Kwanzaa: December 26 - January 1
Leif Erikson Day - October 9
Mardi Gras and Ash Wednesday late winter, date varies
Mother's Day: May; second Sunday
Native American Heritage Day - the day following Thanksgiving
Oktoberfest: late September to early October
Rosh Hashanah: depends on Hebrew calendar
Sadie Hawkins Day: Saturday that follows November 9
St. Patrick's Day: March 17
Valentine's Day: February 14
Yom Kippur: depends on Hebrew calendar
American "Food Holidays"
Native plants combine with the ethnic diversity of the United States to make an extensive (and delicious) array of unique American foods, and many states officially recognize food symbols. Just for fun, we present the following list of "National Food Holidays" (usually originating from and promoted by industry groups, clubs, and health organizations).
January
National Hot Tea Month
National Oatmeal Month
National Slow Cooking Month
National Soup Month
January 2 National Buffet Day
January 2 National Cream Puff Day
January 3 National Chocolate Covered Cherry Day
January 4 National Spaghetti Day
January 5 National Whipped Cream Day
January 6 National Shortbread Day
January 7 National Tempura Day
January 8 National English Toffee Day
January 9 National Apricot Day
January 10 National Bittersweet Chocolate Day
January 12 National Marzipan Day
January 13 National Peach Melba Day
January 14 National Hot Pastrami Sandwich Day
January 15 National Strawberry Ice Cream Day
January 16 National Fig Newton
January 19 National Popcorn Day
January 20 National Buttercrunch Day
January 20 National Cheese Lover's Day
January 21 National Granola Bar Day
January 22 National Blonde Brownie Day
January 23 National Pie Day
January 23 National Rhubarb Pie Day
January 24 National Peanut Butter Day
January 25 National Irish Coffee Day
January 26 National Peanut Brittle Day
January 26 National Pistachio Day
January 28 National Blueberry Pancake Day
January 29 National Cornchip Day
January 30 National Croissant Day
February
National Cherry Month
National Grapefruit Month
National Hot Breakfast Month
National Macadamia Nut Month
National Snack Food Month
National Pancake Week: February 19-25
February 1 National Baked Alaska Day
February 3 National Carrot Cake Day
February 4 National Homemade Soup Day
February 4 National Stuffed Mushroom Day
February 7 National Fettuccine Alfredo Day
February 7 National Pork Rind Appreciation Day (First Sunday in February/Super Bowl Sunday)
February 8 National Molasses Bar Day
February 9 National Bagels and Lox Day
February 10 National Cream Cheese Brownie Day
February 11 National Peppermint Patty Day
February 12 National Plum Pudding Day
February 13 National Tortellini Day
February 14 National Cream-Filled Chocolates Day
February 15 National Gumdrop Day
February 16 National Almond Day
February 17 National Indian Pudding Day
February 19 National Chocolate Mint Day
February 20 National Cherry Pie Day
February 21 National Sticky Bun Day
February 22 National Cook a Sweet Potato Day
February 22 National Margarita Day
February 23 National Banana Bread Day
February 24 National Tortilla Chip Day
February 25 National Chocolate-Covered Peanuts Day
February 25 National Clam Chowder Day
February 26 National Pistachio Day
February 27 National Chocolate Cake Day
February 27 National Strawberry Day
February 27 National Kahlua Day
February 28 National Chocolate Souffle Day
March
National Caffeine Awareness Month
National Celery Month
National Flour Month
National Frozen Food Month
National Noodle Month
National Nutrition Month
National Sauce Month
March 1 National Peanut Butter Lover's Day
March 1 National Fruit Compote Day
March 2 National Banana Cream Pie Day
March 3 National Cold Cuts Day
March 3 National Mulled Wine Day
March 4 National Poundcake Day
March 5 National Cheese Doodle Day
March 6 National Frozen Food Day
March 6 National White Chocolate Cheesecake Day
March 7 National Crown Roast of Pork Day
March 7 National Cereal Day
March 8 National Peanut Cluster Day
March 9 National Crabmeat Day
March 10 National Blueberry Popover Day
March 11 Oatmeal Nut Waffles Day
March 12 National Baked Scallops Day
March 13 National Coconut Torte Day
March 14 National Potato Chip Day
March 15 National Peanut Lovers Day
March 15 National Pears Helene Day
March 16 National Artichoke Heart Day
March 18 National Lacy Oatmeal Cookie Day
March 19 National Poultry Day
March 19 National Chocolate Caramel Day
March 20 National Ravioli Day
March 21 National French Bread Day
March 23 National Chip and Dip Day
March 23 National Melba Toast Day
March 24 National Chocolate Covered Raisins Day
March 26 National Waffle Day
March 26 National Nougat Day
March 27 National Spanish Paella Day
March 28 National Black Forest Cake Day
March 29 National Lemon Chiffon Cake Day
March 30 Turkey Neck Soup Day
March 31 National Clams on the Half Shell Day
April
National Fresh Celery Month
National Pecan Month
National Soft Pretzel Month
National Soyfoods Month
April 12-18 National Egg Salad Week
April 1 National Sourdough Bread Day
April 2 National Peanut Butter and Jelly Day
April 3 National Chocolate Mousse Day
April 4 National Cordon Bleu Day
April 5 National Raisin & Spice Bar Day
April 6 National Caramel Popcorn Day
April 7 National Coffee Cake Day
April 8 National Empanada Day
April 9 National Chinese Almond Cookie Day
April 10 National Cinnamon Crescent Day
April 11 National Cheese Fondue Day
April 12 National Licorice Day
April 13 National Peach Cobbler Day
April 14 National Hot Cross Bun Day (Good Friday)
April 15 National Glazed Ham Day
April 16 National Eggs Benedict Day
April 16 National Baked Ham with Pineapple Day
April 17 National Cheeseball Day
April 18 National Animal Crackers Day
April 20 National Pineapple Upside-down Cake Day
April 21 National Chocolate-Covered Cashews Day
April 22 National Jelly Bean Day
April 23 National Cherry Cheesecake Day
April 24 National Pigs-in-a-Blanket Day
April 25 National Zucchini Bread Day
April 26 National Pretzel Day
April 27 National Prime Rib Day
April 28 National Blueberry Pie Day
April 29 National Shrimp Scampi Day
April 30 National Oatmeal Cookie Day
May
National Barbecue Month
National Chocolate Custard Month
National Egg Month
National Hamburger Month
National Salad Month
National Salsa Month
National Strawberry Month
May 1-7 National Raisin Week
May 1-7 National Herb Week
May 1 National Chocolate Parfait Day
May 3 National Raspberry Popover Day
May 3 National Chocolate Custard Day
May 4 National Candied Orange Peel Day
May 4 National Hoagie Day
May 6 National Crepe Suzette Day
May 7 National Roast Leg of Lamb Day
May 8 National Coconut Cream Pie Day
May 12 National Nutty Fudge Day
May 13 National Apple Pie Day
May 14 National Buttermilk Biscuit Day
May 17 National Cherry Cobbler Day
May 18 National Cheese Souffle Day
May 19 National Devil's Food Cake Day
May 20 National Quiche Lorraine Day
May 22 National Vanilla Pudding Day
May 23 National Taffy Day
May 24 National Escargot Day
May 25 National Brown-Bag-It Day
May 28 National Hamburger Day
May 26 National Blueberry Cheesecake Day
May 31 National Macaroon day
June
National Candy Month
National Dairy Month
National Fresh Fruit and Vegetables Month
National Iced Tea Month
National Papaya Month
June 1 National Hazelnut Cake Day
June 2 National Rocky Road Day
June 3 Donut Day (1st weekend in June)
June 3 National Chocolate Macaroon Day
June 5 National Gingerbread Day
June 6 National Applesauce Cake Day
June 7 National Chocolate Ice Cream Day
June 9 National Strawberry-Rhubarb Pie Day
June 11 National German Chocolate Cake Day
June 12 National Peanut Butter Cookie Day
June 13 Kitchen Klutzes of America Day
June 14 National Strawberry Shortcake Day
June 16 National Fudge Day
June 17 National Apple Strudel Day
June 17 National Cherry Tart Day
June 21 National Peaches & Cream Day
June 22 National Chocolate Eclair Day
June 23 National Pecan Sandies Day
June 24 National Pralines Day
June 25 National Strawberry Parfait Day
June 26 National Chocolate Pudding Day
June 29 National Almond Buttercrunch Day
July
National Baked Bean Month
National Culinary Arts Month
National Hot Dog Month
National Ice Cream Month
National July Belongs to Blueberries Month
National Picnic Month
July 1 National Gingersnap Day
July 2 National Anisette Day
July 3 National Chocolate Wafer Day
July 4 National Barbecue Day
July 5 National Apple Turnover Day
July 6 National Fried Chicken Day
July 7 National Strawberry Sundae Day
July 7 National Macaroni Day
July 8 National Milk Chocolate with Almonds Day
July 9 National Sugar Cookie Day
July 10 National Pina Colada Day
July 11 National Blueberry Muffin Day
July 12 National Pecan Pie Day
July 15 National Tapioca Pudding Day
July 17 National Peach Ice Cream Day
July 18 National Caviar Day
July 20 National Ice Cream Day
July 20 National Lollipop Day
July 21 National Creme Brulee Day
July 22 National Penuche Day
July 23 National Vanilla Ice Cream Day
July 25 National Hot Fudge Sundae Day
July 26 National Bagelfest
July 28 National Milk Chocolate Day
July 29 National Lasagna Day
July 30 National Cheesecake Day
July 31 National Raspberry Cake Day
August
National Catfish Month
National Coffee Month
August 1 National Raspberry Cream Pie Day
August 2 National Ice Cream Sandwich Day
August 2 National Ice Cream Soda Day
August 3 National Watermelon Day
August 4 National Chocolate Chip Day
August 5 National Mustard Day
August 6 National Root Beer Float Day
August 7 Raspberries 'n Cream Day
August 8 National Frozen Custard Day
August 9 National Rice Pudding Day
August 10 National S'mores Day
August 11 National Raspberry Bombe Day
August 14 National Creamsicle Day
August 15 National Lemon Meringue Pie Day
August 17 National Vanilla Custard Day
August 18 National Ice Cream Pie Day
August 19 National Soft Ice Cream Day
August 20 National Chocolate Pecan Pie Day
August 21 National Spumoni Day
August 22 National Pecan Torte Day
August 23 National Spongecake Day
August 24 National Peach Pie Day
August 25 National Banana Split Day
August 26 National Cherry Popsicle Day
August 27 National Pots de Creme Day
August 28 National Cherry Turnovers Day
August 30 National Toasted Marshmallow Day
August 31 National Trail Mix Day
September
National Chicken Month
National Honey Month
National Mushroom Month
National Papaya Month
National Potato Month
National Rice Month
September 3 National Welsh Rarebit Day
September 5 National Cheese Pizza Day
September 8 National Date-Nut Bread Day
September 11 National Hot Cross Bun Day
September 12 National Chocolate Milkshake Day
September 14 National Cream-Filled Donut Day
September 15 National Creme de Menthe Day
September 16 National Cinnamon-Raisin Bread Day
September 17 National Apple Dumpling Day
September 18 National Play-Dough Day
September 19 National Butterscotch Pudding Day
September 20 National Punch Day
September 21 National Pecan Cookie Day
September 22 National White Chocolate Day
September 26 National Pancake Day
September 28 National Strawberry Cream Pie Day
September 29 National Coffee Day
September 30 National Mulled Cider Day
October
National Apple Month
National Applejack Month
National Caramel Month
National Cookbook Month
National Cookie Month
National Cookie Month
National Dessert Month
National Pasta Month
National Pickled Peppers Month
National Pizza Month
National Popcorn Poppin' Month
National Pork Month
National Pretzel Month
National Seafood Month
October 4 National Taco Day
October 5 National Apple Betty Day
October 6 National Noodle Day
October 9 National Dessert Day
October 10 National Angel Food Cake Day
October 11 National Sausage Pizza Day
October 13 National Peanut Festival
October 13 National Pumpkin Festival
October 15 National Mushroom Day
October 17 National Pasta Day
October 18 National Chocolate Cupcake Day
October 20 National Brandied Fruit Day
October 22 National Nut Day
October 23 National Boston Cream Pie Day
October 24 National Bologna Day
October 26 National Mincemeat Day
October 28 National Chocolate Day
October 29 National Oatmeal Day
October 30 National Candy Corn Day
November
National Fun with Fondue Month
National Georgia Pecan Month
National Peanut Butter Lover's Month
National Pepper Month
National Raisin Bread Month
November 1-7 - National Fig Week
November 2 National Deviled Egg Day
November 4 National Candy Day
November 5 National Doughnut Day
November 6 National Nachos Day
November 7 National Bittersweet Chocolate with Almonds Day
November 8 National Split Pea Soup Week (November 8-13)
November 10 National Vanilla Cupcake Day
November 12 National Pizza with the Works Except Anchovies Day
November 13 National Indian Pudding Day
November 14 National Guacamole Day
November 15 National Spicy Hermit Cookie Day
November 20 National Peanut Butter Fudge Day
November 23 National Cashew Day
November 25 National Parfait Day
November 26 National Cake Day
November 27 National Bavarian Cream Pie Day
November 28 National French Toast Day
November 29 National Chocolates Day
November 30 National Mousse Day
December
December 1 National Pie Day
December 2 National Fritters Day
December 4 National Cookie Day
December 5 National Sacher Torte Day
December 6 National Gazpacho Day
December 7 National Cotton Candy Day
December 8 National Brownie Day
December 9 National Pastry Day
December 11 National Noodle-Ring Day
December 12 National Ambrosia Day
December 13 National Cocoa Day
December 14 National Bouillabaisse Day
December 15 National Lemon Cupcake Day
December 16 National Chocolate Covered Anything Day
December 18 National Roast Suckling Pig Day
December 21 National French Fried Shrimp Day
December 23 National Pfeffernuesse Day
December 24 National Egg Nog Day
December 25 National Pumpkin Pie Day
December 26 National Candy Cane Day
December 27 National Fruitcake Day
December 30 National Bicarbonate of Soda Day
Environmental Holidays
Earth Day: April 22
International Day of Forests: March 21
National Arbor Day: spring date varies
National Honey Bee Day: third Saturday of August
World Animal Day: October 4
World Cleanup Day: September 8, 2018
World Environmental Health Day: September 26
World Ocean Day: June 8
World Water Day: March 22