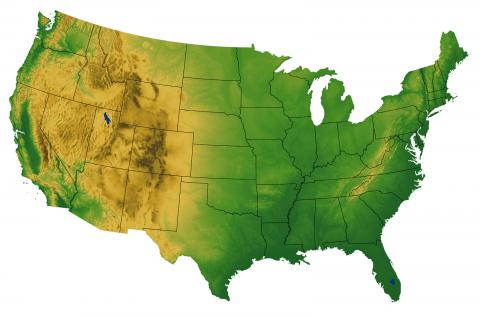 Terrain map of United States of America (the lower 48 states; Hawaii and Alaska are not shown). Licensed Stock photo on BigStockPhoto.
Order of Succession to the Union
From "The First State" (Delaware in 1787), to the last state to join the Union 172 years later (Hawaii in 1959), each state has an individual history, topography, and cultural heritage - each is a unique entity as well as part of the nation.
Date each of the 50 states succeeded to the United States of America (date and year inducted to the nation):
| | | | |
| --- | --- | --- | --- |
| 1 | Delaware | 07-DEC | 1787 |
| 2 | Pennsylvania | 12-DEC | 1787 |
| 3 | New Jersey | 18-DEC | 1787 |
| 4 | Georgia | 02-JAN | 1788 |
| 5 | Connecticut | 09-JAN | 1788 |
| 6 | Massachusetts | 06-FEB | 1788 |
| 7 | Maryland | 28-APR | 1788 |
| 8 | South Carolina | 23-MAY | 1788 |
| 9 | New Hampshire | 21-JUN | 1788 |
| 10 | Virginia | 25-JUL | 1788 |
| 11 | New York | 26-JUL | 1788 |
| 12 | North Carolina | 21-NOV | 1789 |
| 13 | Rhode Island | 29-NOV | 1790 |
| 14 | Vermont | 04-MAR | 1791 |
| 15 | Kentucky | 01-JUN | 1792 |
| 16 | Tennessee | 01-JUN | 1796 |
| 17 | Ohio | 19-FEB | 1803 |
| 18 | Louisiana | 30-APR | 1812 |
| 19 | Indiana | 11-DEC | 1816 |
| 20 | Mississippi | 10-DEC | 1817 |
| 21 | Illinois | 03-DEC | 1818 |
| 22 | Alabama | 14-DEC | 1819 |
| 23 | Maine | 15-MAR | 1820 |
| 24 | Missouri | 10-AUG | 1821 |
| 25 | Arkansas | 15-JUN | 1836 |
| 26 | Michigan | 26-JAN | 1837 |
| 27 | Florida | 03-MAR | 1845 |
| 28 | Texas | 29-DEC | 1845 |
| 29 | Iowa | 28-DEC | 1846 |
| 30 | Wisconsin | 29-MAY | 1848 |
| 31 | California | 09-SEP | 1850 |
| 32 | Minnesota | 11-MAY | 1858 |
| 33 | Oregon | 14-FEB | 1859 |
| 34 | Kansas | 29-JAN | 1861 |
| 35 | West Virginia | 20-JUN | 1863 |
| 36 | Nevada | 31-OCT | 1864 |
| 37 | Nebraska | 01-MAR | 1867 |
| 38 | Colorado | 01-AUG | 1876 |
| 39 | North Dakota | 02-NOV | 1889 |
| 40 | South Dakota | 02-NOV | 1889 |
| 41 | Montana | 08-NOV | 1889 |
| 42 | Washington | 11-NOV | 1889 |
| 43 | Idaho | 03-JUL | 1890 |
| 44 | Wyoming | 10-JUL | 1890 |
| 45 | Utah | 04-JAN | 1896 |
| 46 | Oklahoma | 16-NOV | 1907 |
| 47 | New Mexico | 06-JAN | 1912 |
| 48 | Arizona | 14-FEB | 1912 |
| 49 | Alaska | 03-JAN | 1959 |
| 50 | Hawaii | 21-AUG | 1959 |