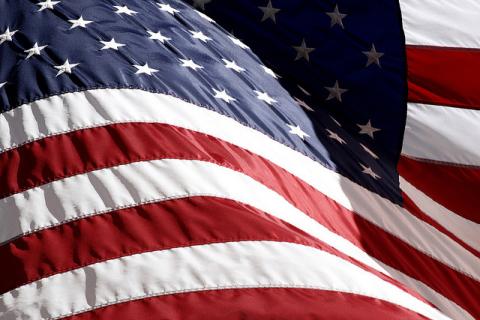 Flag of the United States of America (also called "Old Glory" or "The Star Spangled Banner"); photo by Raul Luna on Flickr (noncommercial use permitted with attribution). All 50 state flags.
Official Flag of the United States
The U.S. flag is a strong symbol of American identity and national pride. Also called Old Glory, The Star Spangled Banner, or simply The Stars and Stripes, the U.S. flag has a colorful history and has undergone many changes since the first official flag of 1777. 50 State Flags
Symbolism of Stars, Stripes, and Colors
Stars are a symbol of the heavens and the goals to which humankind aspires; stripes are symbolic of rays of light from the sun. Thirteen stripes represent the original thirteen colonies that declared independence from England; fifty stars symbolize the current 50 United States. White signifies purity and innocence, red signifies valor and bravery; and blue signifies vigilance, perseverance, and justice.