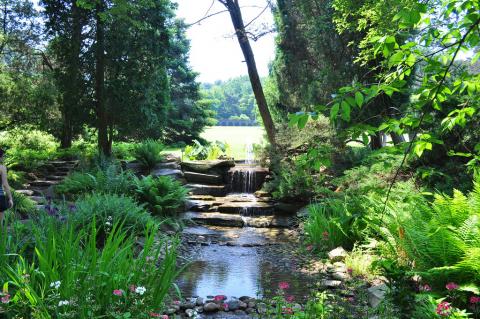 Morris Arboretum & Gardens;  official state arboretum of Pennsylvania.  Photo by Peter Miller/Flickr (Noncommercial Use Permitted with Attribution/No Derivative Works).
Official State Arboretum of Pennsylvania
Morris Arboretum and gardens in Chestnut Hill, Philadelphia was selected by the state legislature in 1988 as Pennsylvania's official state arboretum. All State Plants & Arboretums - State Flowers
Morris Arboretum of the University of Pennsylvania is an interdisciplinary center that integrates art, science and the humanities.
Beginning with founder John Morris's interest in growing plants from around the world, unusual specimens have flourished at Morris Arboretum and Gardens for well over 100 years. Thousands of rare and lovely woody plants, including many of Philadelphia's oldest and largest trees, are set in a 92-acre, Victorian landscape garden of winding paths, streams, flowers and special garden areas.