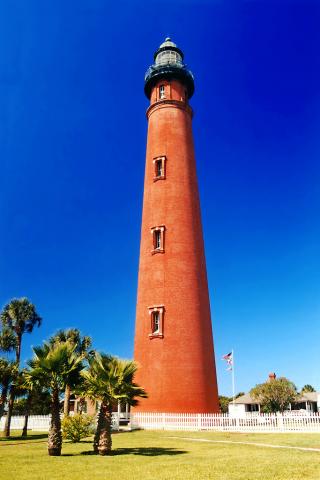 Ponce de Leon Light Station; Florida historic landmark. Photo by Steven Martin/Flickr (Noncommercial Use Permitted with Attribution/No Derivative Works).
Tallest Lighthouse in Florida
Just minutes south of Daytona Beach, Ponce de Leon Light Station and museum is a must-see historic landmark of Florida. First built in 1887, this is the tallest lighthouse in Florida, and third-tallest lighthouse in the United States. All Florida Landmarks
Visitors can climb the 203 steps to the top of the 175-foot brick tower (equivalent to 17 stories) and enjoy magnificent views from the lighthouse gallery deck. The Ponce de Leon Light Station is a working lighthouse that still warns passing ships of the strong currents and shifting sand bars of the nearby waters.