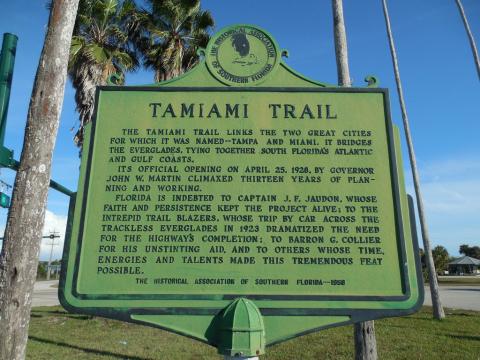 Tamiami Trail Historic Marker; Located at the Junction of US Hwy 41 and CR 29 @ Everglades City, Florida. Photo by Jimmy Emerson, DVM/Flickr (Noncommercial Use Permitted with Attribution/No Derivative Works).
Inscription
TAMIAMI TRAIL
The Tamiami Trail links the two great cities for which it was named -- Tampa and Miami. It bridges the everglades, tying together south Florida's Atlantic and Gulf coasts.
Its official opening on April 25, 1928, by Governor John W. Martin climaxed thirteen years of planning and working.
Florida is indebted to Captain J.F. Jaudon, whose faith and persistence kept the project alive; to the intrepid trail blazers, whose trip by car across the trackless everglades in 1923 dramatized the need for the highway's completion; to Barron G. Collier for his unstinting aid, and to others whose time, energies and talents made this tremendous feat possible.
THE HISTORICAL ASSOCIATION OF SOUTHERN FLORIDA -- 1958