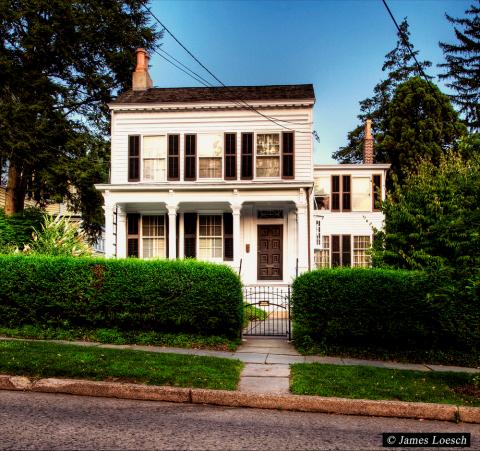 Albert Einstein House; 112 Mercer Street, Princeton, New Jersey.  Photo by James Loesch/Flickr (Noncommercial Use Permitted with Attribution/Share Alike).
National Historic Landmark in Princeton, New Jersey
The simple cottage-style house at 112 Mercer Street in Princeton, New Jersey, was the last home of Albert Einstein (1879-1955), the theoretical physicist and Nobel Prize winner who's name is now synonymous with the word "genius." Einstein is best known for his special theory of relativity, the general theory of relativity, and unified field theory.
The house was built around 1870 - 1880 and has no special architectural significance. Einstein bought the house in 1935 and lived there from 1936 until his death in 1955.
The Einstein house was added to the National Register of Historic Places and designated a U.S. National Historic Landmark in 1976. All New Jersey Landmarks - New Jersey Parks