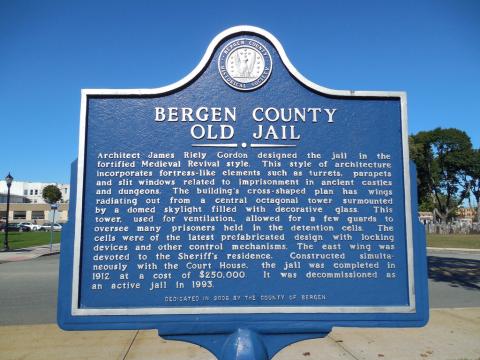 Old Bergen County Jail historic marker; Hackensack, New Jersey.  Photo by Jimmy Emerson, DVM/Flickr (Noncommercial Use Permitted with Attribution/No Derivative Works).
Marker Inscription
BERGEN COUNTY OLD JAIL
Architect James Riely Gordon designed the jail in the fortified medieval revival style. This style of architecture incorporates fortress-like elements such as turrets, parapets and slit windows related to imprisonment in ancient castles and dungeons. The buildings cross-shaped plan has wings radiating out from a central octagonal tower surmounted by a domed skylight filled with decorative glass. This tower, used for ventilation, allowed for a few guards to oversee many prisoners held in the detention cells. The cells were of the latest prefabricated design with locking devices and other control mechanisms. The east wing was devoted to the Sheriff's residence. Constructed simultaneously with the courthouse, the jail was completed in 1912 at a cost of $250,000. It was decommissioned as an active jail in 1993.
DEDICATED IN 2006 BY THE COUNTY OF BERGEN
Location
The Bergen County Old Jail historic marker is located at the intersection of Court Street and Moore Street, Hackensack, New Jersey. The Old Jail building is listed in the National Register of Historic Places.