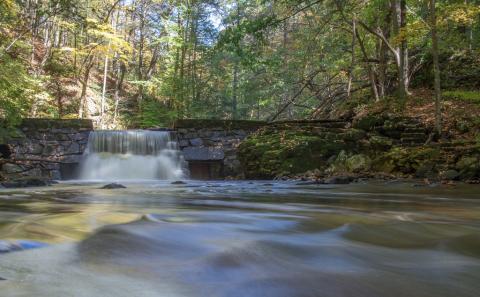 Black River at Hacklebarney State Park; New Jersey.  Photo by Gary Liu/Flickr (Noncommercial Use Permitted with Attribution/No Derivative Works).
Hacklebarney State Park in Long Valley, New Jersey
Iron ore was mined at the site of Hacklebarney State Park in the 19th century (formerly called Hacklebarney Memorial State Forest Park Reservation). Today Hacklebarney has been described as "the most beautiful park in New Jersey." All New Jersey Parks - New Jersey Landmarks
At Hacklebarney State Park, visitors enjoy glacial boulders strewn through majestic hemlock forests, rare and endangered plant species (such as American ginseng, leatherwood, and Virginia pennywort), and abundant wildlife (including over 100 bird species, black bear, woodchuck, deer, and fox). Black River and its tributaries rush over boulders and cut through deep ravines, keeping the gorge cool and refreshing even in the heat of summer.
Origin of the name Hacklebarney
Hacklebarney? Where did that name come from? A reasonable question, but the answer is not definitive, in fact the origin of the name Hacklebarney is blurry at best:
"It is said that the word Hacklebarney has a Native American derivation. Depending on which source one reads, it may have come from the words haki, meaning "ground" and barney, a variation of bonihen, "to put wood on fire," or hakiboni, "to put wood on a fire on the ground" or "bonfire." Other explanations come by way of the area's iron-mining history. The first concerns an iron mine foreman named Barney Tracey, who was lovingly but persistently heckled by his workmen – hence the name "Heckle" Barney. Another tradition says the name came from the Irish miners and their home village in Cork County. Finally, the land near the Hacklebarney forge may have been owned by a Barney Hackle." - Peter Osborne, author of "Images of America: Hacklebarney and Voorhees State Parks."