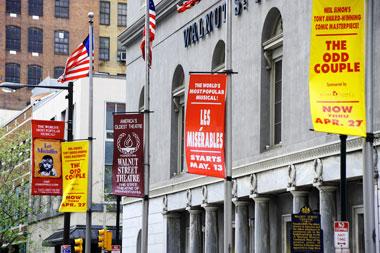 Walnut Street Theatre in Philadelphia; photo by Judy Malley on Flickr (noncommercial use permitted with attribution / no derivative works).
Official State Theater of Pennsylvania
The Walnut Street Theatre was designated the official state theater of Pennsylvania in 1999. All State Theaters - Arts & Dramas
Built nearly 200 years ago in 1809, the Walnut Street Theatre in Philadelphia is the oldest theater in the United States and has reflected the development of American theater during its long history.
Excerpt from legislation
"....WHEREAS, The Walnut Street Theatre featured performances by famous American and European artists, including Fanny Kemble, Lilly Langtry, Edmund Kean, Ellen Tree and Thomas Cooper, and continued to be a leader in American theatre with appearances by Henry Fonda, Julie Harris, W.C. Fields, Paul Robeson, Harry Houdini, Leslie Howard, the Gish Sisters, Ethel Waters, Katharine Hepburn, the Marx Brothers, Helen Hayes and many others; ..."
Origin of Theater
The origin of theater goes back to prehistoric people acting out their hunting experiences and ancients singing and dancing for religious ceremonies. Theater as pure entertainment evolved slowly - the first recorded European theater was in ancient Greece about 600 BC (for a festival honoring the god of wine and fertility). A poet named Thespis won a dramatic play competition at this celebration and is so considered "the first actor" (origin of the term thespian).