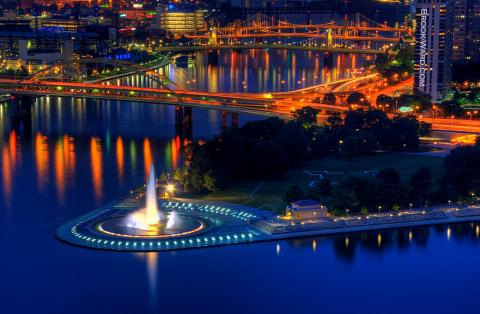 Point State Park at night showing outline of Fort Duquesne and fountain at the point; Pittsburgh, Pennsylvania.  Photo by Brook Ward/Flickr (Noncommercial Use Permitted with Attribution).
Point State Park
Point State Park is located where the Monongahela and Allegheny rivers converge to form the Ohio in downtown Pittsburgh. Called simply "Point Park" locally, the 36-acre park preserves the historic heritage of the area; Fort Duquesne stood on this spot (taken over by the British in 1758 and renamed Fort Pitt); strategic during the French and Indian War (1754 - 1763).
Point State Park was designated a National Historic Landmark in 1975.