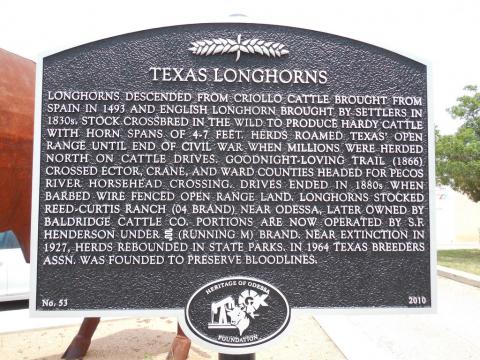 Texas Longhorn Historic Marker; City of Odessa, Ector County, Texas. Photo by Jimmy Emerson, DVM/Flickr (Noncommercial Use Permitted with Attribution/No Derivative Works).
Texas Longhorns Historic Marker
Inscription: Longhorns descended from Criollo cattle brought from Spain in 1493 and English longhorn brought by settlers in 1830s. Stock crossbred in the wild to produce hardy cattle with horn spans of 4-7 feet. Herds roamed Texas' open range until end of Civil War when millions were herded north on cattle drives. Goodnight-Loving Trail (1866) crossed Ector, Crane, and Ward Counties headed for Pecos River Horsehead Crossing. Drives ended in 1880s when barbed wire fenced open range land. Longhorns stocked Reed-Curtis Ranch (04 Brand) near Odessa, later owned by Baldridge Cattle Co. Portions are now operated by S.F. Henderson (under Running M Brand). Near extinction in 1927, herds rebounded in state parks. In 1964 Texas Breeders Assn. was founded to preserve bloodlines.
Historic marker erected by Heritage of Odessa Foundation in 2010. The longhorn is also an official state symbol of Texas.