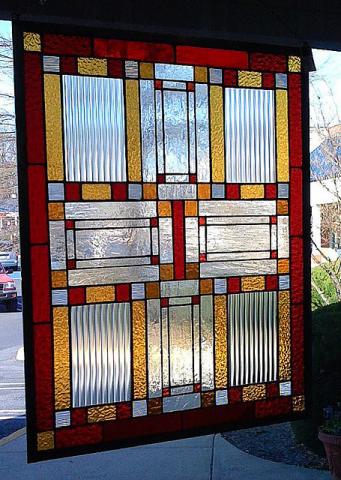 Window art at the Artisans Center of Virginia in Waynesboro; photo by Bob Travis on Flickr (noncommercial use permitted with attribution).
Official State Artisan Center of Virginia
Virginia designated the Artisans Center of Virginia in Waynesboro as the official state artisan center in 1999. All Arts & Drama Symbols
The Artisans Center of Virginia develops and implements systems and strategies to improve economic outcomes for Virginia artisans and their communities while assisting them in promoting their local artisan culture. Their mission includes:
Heritage: maintaining the culture of quality handmade craft.
Education: encouraging the development of the next generation artisan.
Jobs: developing professional advancement opportunities for the practicing artisan.
Research: gathering and documenting the impact of craft on Virginia's culture and economy.
Community: strengthening local communities by increasing visibility of artisan studios, venues.
Economy: providing exhibition and sales opportunities.
Code of Virginia: § 7.1-40.11. Official artisans center