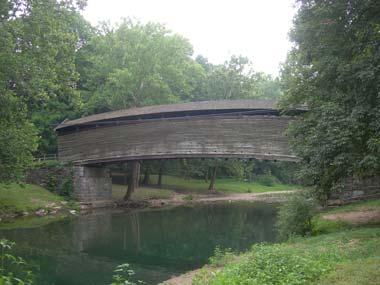 Historic humpback covered bridge erected in 1835 near Covington, Virginia; photo by Jimmy Emerson on Flickr (noncommercial use permitted with attribution / no derivative works).
State Covered Bridge Capital & Festival
In 2008 Virginia designated Patrick County as the covered bridge capital of the Commonwealth. Bob White covered bridge in Stuart , VA (built in 1921) and Jack's Creek covered bridge in Woolwine, VA (built in 1914) give a feeeling of a simpler time, when life moved a little slower and horse-drawn wagons and Model Ts parked in these "kissing bridges" (which provided shelter from the weather).
If you visit in June the bridges come to life with horse-drawn wagons and hay rides during the County-sponsored Virginia Covered Bridge Festival.