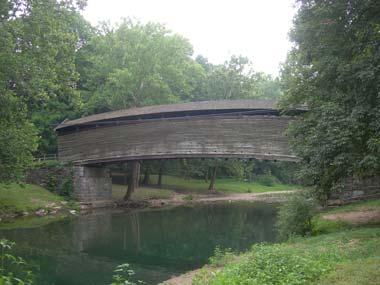 Historic humpback covered bridge erected in 1835 near Covington, Virginia; photo by Jimmy Emerson on Flickr (noncommercial use permitted with attribution / no derivative works).
Official State Covered Bridge Capital & Festival of Virginia
In 2008 Virginia designated Patrick County as the covered bridge capital of the Commonwealth and the "Virginia Covered Bridge Festival" held in Patrick County as the official state covered bridge festival. All State Festivals & Events
Covered Bridge Festival
If you visit Patrick County in June the bridges come to life with horse-drawn wagons and hay rides during the county-sponsored "Virginia Covered Bridge Festival."
Bob White covered bridge in Stuart , VA (built in 1921) and Jack's Creek covered bridge in Woolwine, VA (built in 1914) give a feeling of a simpler time, when life moved a little slower and horse-drawn wagons and Model Ts parked in these "kissing bridges" (which provided shelter from the weather).
HOUSE BILL NO. 3076
WHEREAS, the Jacks Creek Covered Bridge is a 48-foot span that was erected in 1914; and
WHEREAS, the Bob White Covered Bridge, which was erected in 1921, is a very rare 80-foot span utilizing the "Burr truss" construction method; and
WHEREAS, the Jacks Creek and Bob White covered bridges are within one mile of each other; and
WHEREAS, both bridges are listed on the Virginia Historic Landmark Register and the National Historic Landmark Register; and
WHEREAS, currently there are only eight covered bridges located in the Commonwealth that have attained historic landmark status; and
WHEREAS, the covered bridge has become a symbol for Patrick County and serves as the cornerstone for the County's future prosperity; now, therefore,
Be it enacted by the General Assembly of Virginia ... That § 1-510 of the Code of Virginia is amended and reenacted as follows ... the following are hereby designated official emblems and designations of the Commonwealth ... Festival - Virginia Covered Bridge Festival held in Patrick County. ...
Code of Virginia: 2008 Session, CHAPTER 262, Act [S 94] to amend § 1-510