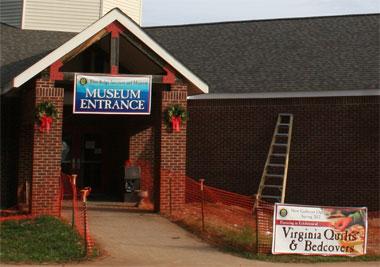 Quilting workshop at the Blue Ridge Institute; photo by Ferrum College on Flickr (noncommercial use permitted with attribution / share alike).
Blue Ridge Institute
Virginia designated the Blue Ridge Institute in Ferrum, Virginia as the official state folklore center in 1986. Through gallery exhibits, the Blue Ridge Folklife Festival, the Blue Ridge Farm Museum, the Blue Ridge Heritage Archive, the recordings series, and innovative outreach programming, the Blue Ridge Institute promotes a special understanding of regional folklife by documenting the folkways of the people living in and around the Blue Ridge Mountains.