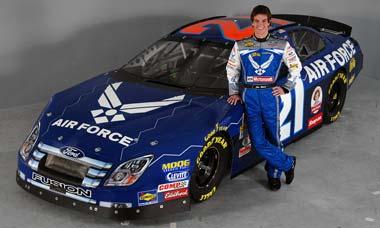 Jon Wood, the driver of the Air Force car (number 21) in the NASCAR Nextel Cup Series - public domain photo on Wikipedia.
Virginia Motorsports Museum & Hall of Fame
Virginia designated the Virginia Motorsports Museum and Hall of Fame in the Blue Ridge Highlands as an official state symbol in 1995. The museum preserves and chronicles Patrick County's rich racing history. Race fans and visitors to the area will see how moonshine was made and hear the fascinating story of how this moonshining business lead directly to the birth of NASCAR racing. Home to the famous Wood Brothers Racing Team (their museum sits adjacent to the Hall of Fame).