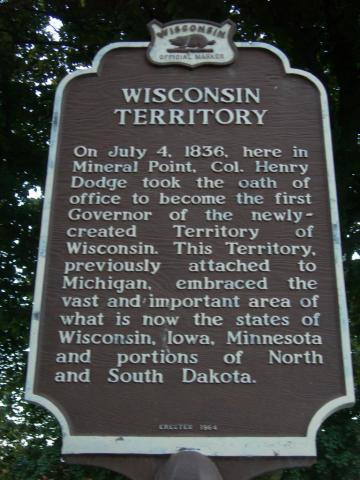 Wisconsin Territory Historic Marker; MIneral Point, Wisconsin.  Photo by Jimmy Emerson, DVM/Flickr (Noncommercial Use Permitted with Attribution/No Derivative Works).
Wisconsin Territory Marker Inscription
"On July 4, 1836, here in Mineral Point, Col. Henry Dodge took the oath of office to become the first Governor of the newly-created Territory of Wisconsin. This Territory, previously attached to Michigan, embraced the vast and important area of what is now the states of Wisconsin, Iowa, Minnesota and portions of North and South Dakota.
Marker Number 137, erected in 1964 by the Wisconsin Historical Society. Location: Library Park, Mineral Point, Iowa County, Wisconsin." All Wisconsin Historic Markers