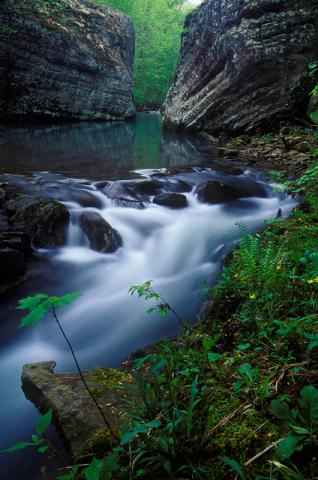 Ozark Highlands Trail in Arkansas (the section which runs along Hurricane Creek); photo by Beau Rogers on Flickr (noncommercial use permitted with attribution).
Poet Laureate
The position of poet laureate of Arkansas was established in 1923. The Governor is authorized to proclaim a Poet Laureate of the State of Arkansas, which is an honorary title in recognition of outstanding accomplishments and contributions in poetry by a person who is a resident of the State of Arkansas. The poet laureate is selected from a list of names submitted to the Governor upon recommendation of a committee consisting of the principal heads of the English departments of all state-supported universities and colleges.
Current Laureate: Peggy Vining (start of Term: 2003).
Previous Laureates
1923-1945: Charles T. Davis
1953-1970: Rosa Zagnoni Marinoni
1970-1971: Ercil Brown
1971-1991: Lily Peter
1991-2003: Verna Lee Hinegardner