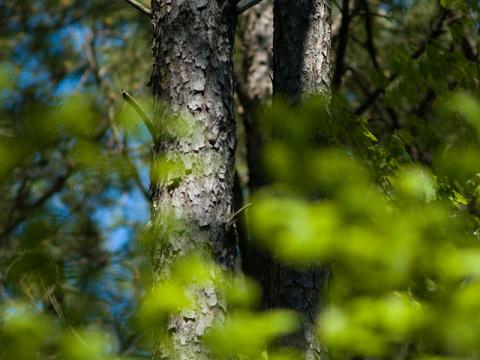 Loblolly pine trees in a mixed-growth forest; photo by C.J. Peters on Flickr (noncommercial use permitted with attribution / share alike).
Pine
Arkansas designated the pine tree as the official state tree in 1939 in recognition of the state's pine timber resources and reforestation efforts. There are four native species of pine in Arkansas: shortleaf pine, loblolly pine, longleaf pine, and slash pine (loblolly and shortleaf are most common). Many telephone poles were once loblolly pines.
From Arkansas.gov: The pine was adopted as the Arkansas State Tree by the General Assembly of 1939. The loblolly and shortleaf pine are varieties of southern yellow pine found in our state. Both varieties may grow to be 100 feet tall and can be found in our two National Forests, the Ouachita National Forest and the Ozark St. Francis National Forest. 
Before European-American settlement, almost all of Arkansas was forested with notable diversity. Early logging was small scale but by the end of the 19th century, railroads brought mass access to external markets and Arkansas timber left the state at a rapid rate. By 1930, many areas were "logged out." Since then, however, strong markets and improved forestry techniques have contributed to the pine forests' recovery. A 2005 assessment revealed more than 5 million acres of pine (both loblolly and shortleaf) and mixed-pine forest in Arkansas.