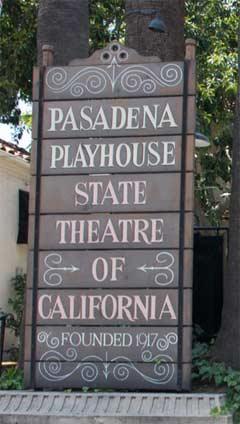 Pasadena Playhouse sign; photo by Krista Kennedy on Flickr (noncommercial use permitted with attribution / share alike). 
Official State Theater of California
The Pasadena Playhouse was designated as the official state theater of California in 1937. All State Theaters
The historic, Spanish- style Pasadena Playhouse staged its first production in 1925. Many famous actors have appeared on the Pasadena Playhouse stage including Dustin Hoffman, Eve Arden, Gene Hackman, Raymond Burr, and Tyrone Power.
Origin of Theater
The origin of theater goes back to prehistoric people acting out their hunting experiences and ancients singing and dancing for religious ceremonies. Theater as pure entertainment evolved slowly - the first recorded European theater was in ancient Greece about 600 BC (for a festival honoring the god of wine and fertility). A poet named Thespis won a dramatic play competition at this celebration and is so considered "the first actor" (origin of the term thespian).