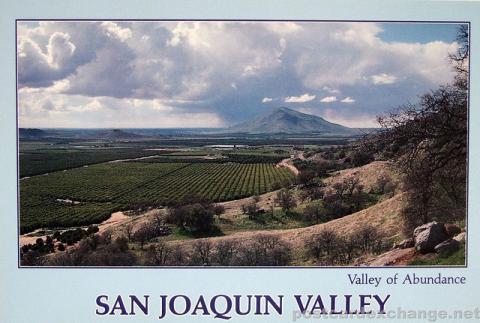 Valley of Abundance: San Joaquin Valley, California; photo of postcard by Adam on Flickr (noncommercial use permitted with attribution / no derivative works).
Official State Soil of California
San Joaquin soil series was designated the official state soil of California in 1997 through the efforts of students and teachers at Martin Luther King, Jr. Middle School in Madera, natural resource professionals, the Professional Soil Scientists Association of California, legislators, and several state universities. A profile of San Joaquin soil is displayed at the World Soil Museum in the Netherlands. All State Soils
California's central valley has more than half a million acres of San Joaquin soils (named for the south end of that great valley - one of the richest agricultural areas in the world). San Joaquin soils are used for irrigated crops (such as wheat, rice, figs, almonds, and grapes) and also for pasture and urban development. A cemented hardpan a few feet beneath the surface restricts roots and water percolation. The designation of a state soil in 1997 was to commemorate the completion of California's most comprehensive soil inventory and to acknowledge the importance of soil.