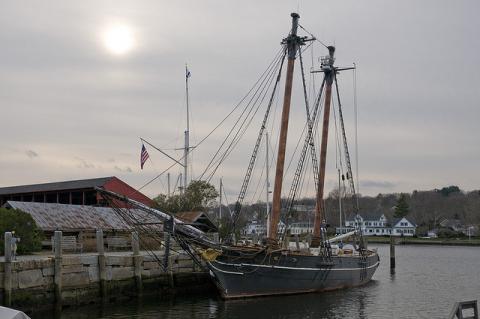 Freedom schooner Amistad at Mystic Seaport, Connecticut; photo by Gregory Moine on Flickr (noncommercial use permitted with attribution / no derivative works). 
Amistad - Connecticut's Flagship and Tall Ship Ambassador
Connecticut designated the freedom schooner Amistad as the state flagship and tall ship ambassador in 2003. This recreation was constructed at Connecticut's Mystic Seaport and set sail in 2000 as a floating classroom and symbol of courage and moral strength to the national and international communities.
The original schooner (La Amistad) was seized in 1839 off Long Island with a group of kidnapped Africans on board that had revolted against impending slavery. They were imprisoned, charged with murder, and once again battling for their freedom. Abolitionists from Connecticut and surrounding states assisted the captives, bringing the first civil rights case to the U.S. Supreme Court. The case was won and the Africans were returned to their homeland.
Connecticut also adopted a state ship (USS Nautilus SSN-571) and a state aircraft (Corsair F4U).