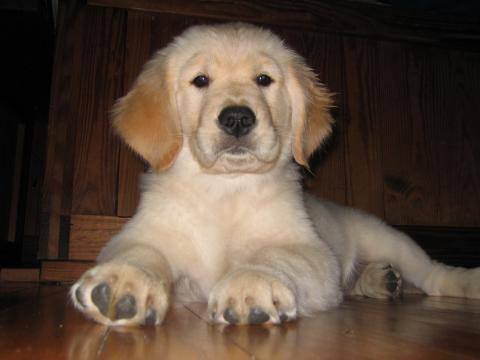 Golden Retriever puppy; official state dog of Delaware.  Photo by Rob Kleine/Flickr (Noncommercial Use Permitted with Attribution).
Official State Dog of Delaware
Delaware designated the golden retriever as the official dog of the state on August 03, 2016 (designation expired August 03, 2017). All State Dogs & Cats
"Some lawmakers joked that they were conflicted because they owned dogs of other breeds ("Our black lab is adamantly opposed to this bill," said Rep. Lyndon Yearick, R-Dover South). They said their concerns were assuaged by the fact that the state dog designation would only last for one year, allowing other breeds to get the spotlight." (DelawareOnline quote).
How was the Golden Retriever Selected?
The adoption of an official state dog for Delaware began when 4th-grade students wrote letters to their legislators as part of a combined lesson on state symbols and persuasive writing taught by teacher Kathryne Peters at Learning Express Academy in Newark. The students also considered the beagle and the fox bull terrier, but the golden retriever ultimately won the class "election."
Chapter 365, Formerly House Bill NO. 296
AN ACT TO AMEND TITLE 29 OF THE DELAWARE CODE RELATING TO THE DESIGNATION OF A STATE DOG.
WHEREAS, Retrievers came into prominence because of the desire for a medium-sized dog that would do well in wild-fowling, both upland game and waterfowl; and
WHEREAS, Golden Retrievers are popular as disability assistance dogs such as being guide dogs for the blind and hearing dogs for the deaf; and
WHEREAS, they are also trained to be hunting dogs and detection dogs; and
WHEREAS, Golden Retrievers are often used on search and rescue teams because of their keen sense of smell and tracking abilities; and
WHEREAS, Goldens make great therapy dogs; and
WHEREAS, Presidents Ford and Reagan both had Golden Retrievers as pets while in office; and
WHEREAS, Goldens have an instinctive love of water and are easy to train to basic or advanced obedience standards; and
WHEREAS, the breed's friendly, gentle temperament means it is unsuited to being a professional guard dog, but its temperament has also made it the third-most popular family dog breed (by registration) in the United States, the fifth-most popular in Australia, and the eighth-most popular in the United Kingdom; and
WHEREAS, Golden Retrievers also are very smart dogs that are loyal and friendly to their caregivers; and
WHEREAS, the temperament of the Golden Retriever is a hallmark of the breed, and is described in the standard as kind, friendly, and confident; and
WHEREAS, Golden Retrievers make good family pets, particularly as they are patient with children; and
WHEREAS, the typical Golden Retriever is calm, naturally intelligent and biddable, with an exceptional eagerness to please; and
WHEREAS, they are known to take care of other animals, even cats;
NOW, THEREFORE: BE IT ENACTED BY THE GENERAL ASSEMBLY OF THE STATE OF DELAWARE:
Section 1. Amend Title 29, Chapter 3 of the Delaware Code ... as follows:
§ 326. State dog. The Golden Retriever is the official dog of the State.
Section 2. This Act shall take effect upon its enactment into law.
Section 3. This Act shall expire 1 year after its enactment into law.
Approved August 03, 2016