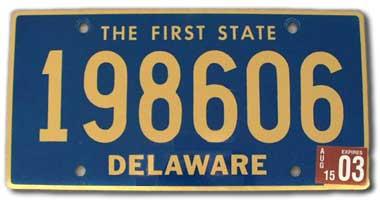 Delaware blue and buff license plate with official state nickname: "The First State" (colonial blue and buff are Delaware's official colors). Colonial blue is actually a lighter shade (seen on the Delaware flag), but the blue on the plate is darker for contrast / visibility. Photo by Norm Russo (used by permission).
Official State Colors of Delaware
The official state colors of Delaware are colonial blue and buff (also found on the state flag). All State Colors
The shades of buff and colonial blue represent the uniform colors of General George Washington as shown on a specific plate from an official U.S. Army publication.