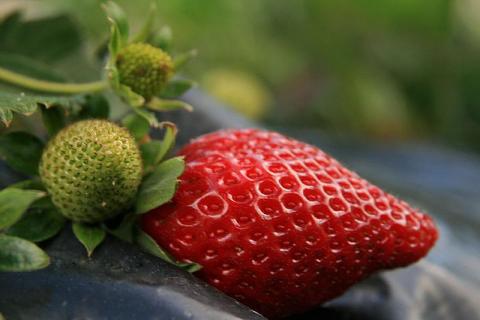 Official State Fruit of Delaware
Delaware designated strawberries as the official state fruit in 2010. Strawberries are an important part of Delaware's agricultural industry. All State Food Symbols
Delaware strawberries are bred for taste, not to be big or last a long time on a store shelf. Another fruit recognized as a symbol of Delaware is the peach (the state dessert is peach pie and peach blossom is the state flower).
WHEREAS, strawberries are an important product of Delaware's agricultural industry; and
WHEREAS, children and adults love to pick their own strawberries; and
WHEREAS, strawberries can be a refreshing part of everyone's diet; and
WHEREAS, there are many diverse and delicious recipes and uses for strawberries, such as: strawberry shortcake, strawberries and cream, strawberry margaritas, strawberry daiquiris, strawberry milkshakes, strawberry ice cream, strawberry yogurt, strawberries on Belgium waffles, strawberry crepes, strawberry jelly, strawberry jam, strawberry salsa, strawberry pie, chocolate covered strawberries, strawberry pretzel salad, strawberry soup, strawberry Jell-O, strawberry smoothies, strawberry cheesecake, strawberry bread, strawberry muffins, strawberry sorbet, strawberry mice, strawberries in champagne, strawberry wine, and just plain strawberries.
NOW, THEREFORE: BE IT ENACTED BY THE GENERAL ASSEMBLY OF THE STATE OF DELAWARE:
Section 1. Amend Chapter 3, Title 29 of the Delaware Code by adding a new section to read as follows:
"§ 322. State fruit. Strawberries shall be the official fruit of the State."