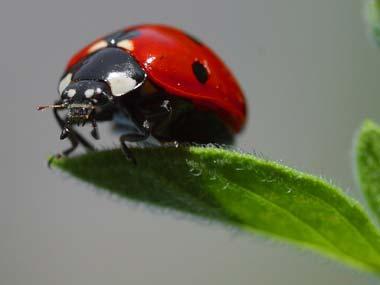 Official State Bug of Delaware
The ladybug was adopted as the official state bug of Delaware April 25, 1974 thanks to an intensive effort made by Mrs. Mollie Brown-Rust and her 2nd grade students of Lulu M. Ross Elementary School in Milford, Delaware. Children love ladybugs; they are also a state symbol of New Hampshire, Massachusetts, New York, Ohio, and Tennessee. All State Insects
Delaware recognizes two more official insect symbols; a state butterfly, and a state macroinvertebrate. 
Ladybug Facts
Also called lady beetle, ladybird beetle, or ladyfly, ladybugs help gardeners and farmers by eating tiny insect pests that damage plants.A ladybug can consume up to 60 aphids per day, but will also eat a variety of other insects and larvae (including scales, mealy bugs, leaf hoppers, mites, and other types of soft-bodied insects), and also pollen and nectar. Ohio, Massachusetts, New Hampshire, Tennessee, and New York also designate the ladybug as an official state symbol.
According to John Losey, a Cornell University entomologist who leads the Lost Ladybug Project (a project funded by a National Science Foundation grant recruiting citizen scientists, particularly children, to search for nine-spotted ladybugs and other ladybug species and send photos of them to Cornell for identification and inclusion in a database). There are about 5,000 species of ladybugs, with about 450 species in the United States.
CHAPTER 300 FORMERLY HOUSE BILL NO. 667
AN ACT TO AMEND CHAPTER 5, TITLE 29, DELAWARE CODE BY PROVIDING FOR THE DESIGNATION OF THE OFFICIAL BUG OF THE STATE OF DELAWARE.
WHEREAS, students in the Milford High School District have found that the State of Delaware has omitted from the Delaware Code the official designation of a State bug; and
WHEREAS, many states have designated an official State bug to accompany their State flower, State flag and State bird; and
WHEREAS, the insect herein designated as the official State bug is emblematic and fitting to accompany Delaware's other official symbols.
NOW, THEREFORE: Be it enacted by the General Assembly of the State of Delaware:
Section 1. Amend Chapter 5 of Title 29, Delaware Code, by adding thereto a new section to be designated as §509 to read as follows:
§509. State bug
The Lady Bug shall be the official State Bug for the State of Delaware.
Approved April 25, 1974.