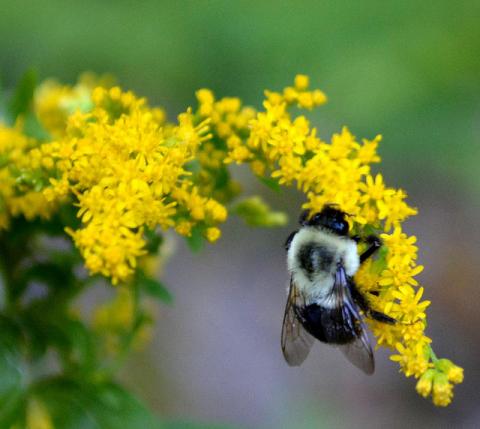 Official State Herb of Delaware
Sweet goldenrod (Solidago odora) was designated the official state herb of Delaware June 24, 1996 (suggested by the International Herb Growers and Marketers Association of Delaware). All State Plants
Growing up to six feet tall, sweet goldenrod is indigenous to Delaware (and much of the eastern U.S.) and is widespread throughout the state, commonly found in Delaware's coastal areas and along the edges of marshes and thickets. Sweet goldenrod is considered threatened in Ohio, Vermont, and New Hampshire.
An aromatic, anise-flavored tea can be made from the dried leaves and dried, fully-expanded flowers; sweet goldenrod tea has medicinal properties useful in the treatment of coughs and colds, among other ailments. Sweet goldenrod blossoms are also used as a flavoring in cooking, and the root can be chewed to treat a sore mouth.
CHAPTER 386 FORMERLY SENATE BILL NUMBER 364
AN ACT TO AMEND CHAPTER 3 OF TITLE 29 OF THE DELAWARE CODE RELATING TO THE DESIGNATION OF SOLIDAGO ODORA (SWEET GOLDEN ROD) AS THE OFFICIAL STATE HERB.
WHEREAS, many states across America have designated an official "state herb" to accompany their state flag, state flower, state bird and state bug; and
WHEREAS, the State of Delaware, despite its great wealth of indigenous flora, has never made such a designation; and
WHEREAS, members of the International Herb Growers and Marketers Association of Delaware, aware of this fact, have suggested that the herb "Solidago Odora," commonly known as "Sweet Golden Rod" because of its beautiful, golden blossoms, would be especially appropriate as the subject of such designation; and
WHEREAS, Sweet Golden Rod is both indigenous to Delaware and widespread throughout the state where it is commonly found in our coastal areas along the edges of marshes and thickets; and
WHEREAS, Sweet Golden Rod has many associations with American history and culture, not the least of which is that, following the Boston Tea Party in the 1760's, when Americans protested the imposition by Great Britain of outrageous customs duties by dumping a cargo of English tea into Boston harbor and thereafter boycotting the use of this product which had hitherto been the common beverage of choice throughout the colonies, they turned to herbal tea made from Sweet Golden Rod as a substitute, calling it "Liberty Tea;" and
WHEREAS, prior to that time, the herb had been commonly used by native Americans; and
WHEREAS, Sweet Golden Rod, which has been unfairly and inaccurately blamed over the years for causing hayfever among allergy sufferers, continues in widespread use today as herbal tea and seasoning for cooking, as a natural dye and, when in bloom, as a lovely flower both fresh cut and dried, in which state it is used for various crafts; and
WHEREAS, Sweet Golden Rod blooms are even used in many elegant restaurants as an edible garnish in the presentation of fine meals; and
WHEREAS, the designation of Sweet Golden Rod would be highly appropriate not only in its own right, but as a means whereby Delaware State Government might recognize the increasingly vital role played by herb culture in Delaware's agricultural economy;
NOW, THEREFORE: BE IT ENACTED BY THE GENERAL ASSEMBLY OF THE STATE OF DELAWARE;
Section 1. Amend Chapter 3, Title 29 of the Delaware Code by adding thereto
a new section, to be designated "§ 313", which new section shall read as follows:
"§3 l 3. State herb.
Solidagu Odora, commonly known as "Sweet Golden Rod," shall be the official herb of the State."
Approved June 24, 1996