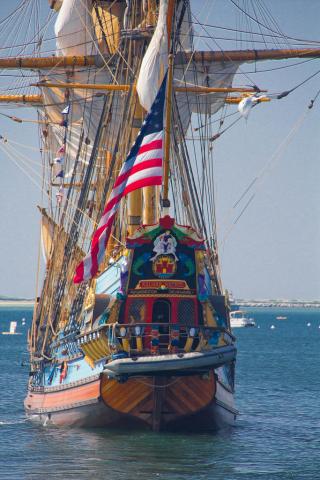 Tall ship Kalmar Nyckel; leaving Provincetown harbor.  Photo by cjuneau/Flickr (Use Permitted with Attribution).
Official State Tall Ship of Delaware
Delaware designated the Kalmar Nyckel as the official state tall ship September 09, 2016. All State Ships
CHAPTER 423 FORMERLY SENATE BILL NO. 205
AN ACT TO AMEND TITLE 29 OF THE DELAWARE CODE RELATING TO THE DESIGNATION OF THE KALMAR NYCKEL AS THE TALL SHIP OF DELAWARE.
WHEREAS, the original ship Kalmar Nyckel sailed from Sweden and landed at the Rocks, now Fort Christina Historic Park, in 1638 carrying Peter Minuit and his original crew, the first permanent European settlers in the Delaware Valley, to found the trading post of New Sweden, now Wilmington, Delaware; and
WHEREAS, the Kalmar Nyckel made four documented round-trip crossings of the Atlantic Ocean, more than any other ship of the era; and
WHEREAS, the Kalmar Nyckel Foundation undertook to build a faithful recreation of the original ship at the Foundation's shipyard on the Seventh Street Peninsula adjacent to the Rocks, with the ship being launched in 1997; and
WHEREAS, it is the mission of the Kalmar Nyckel Foundation to preserve and promote the cultural and maritime heritage of Delaware for the education and enrichment of all; and
WHEREAS, the Kalmar Nyckel through its education programs reaches all people of all ages perpetuating the history of the Kalmar Nyckel, the seamanship skills necessary to sail the vessel, and the enterprise that characterized the first voyagers; and
WHEREAS, their Majesties King Carl XVI Gustaf and Queen Silvia of Sweden were on board the Kalmar Nyckel on May 11, 2013, landing at the Rocks, Fort Christina Park, to celebrate the 375 anniversary of the original landing; and
WHEREAS, the Kalmar Nyckel serves as Delaware's seagoing Ambassador both at home and at many ports of call, raising awareness of the First State for thousands who see her and come on board; and
WHEREAS, the Kalmar Nyckel is featured in numerous publications and promotions further strengthening awareness of Delaware for thousands of potential visitors to our state;
NOW THEREFORE:
BE IT ENACTED BY THE GENERAL ASSEMBLY OF THE STATE OF DELAWARE:
Section 1. Amend Title 29, Chapter 3 of the Delaware Code by making deletions as shown by strike through and insertions as shown by underline as follows:
§ 365 State Tall Ship
The Ship Kalmar Nyckel is designated the official Tall Ship of Delaware.
Approved September 09, 2016