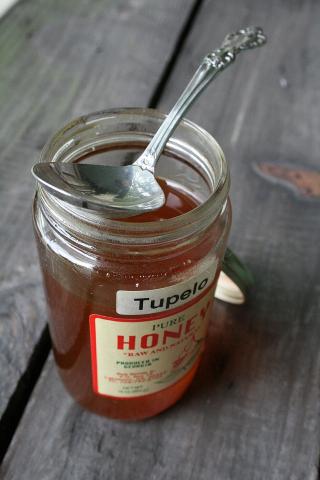 Tupelo honey; an official state symbol of Florida.  Photo by TW Collins/Flickr (Noncommercial Use Permitted with Attribution/No Derivative Works).
Official State Honey of Florida
Tupelo honey was designated the official Florida state honey on March 16, 2016, when Governor Rick Scott signed HB 7007.  All State Foods
Tupelo honey is collected from beehives placed on elevated platforms along the Chipola and Apalachicola rivers of the Florida panhandle. During April and May, the bees harvest nectar from the blossoms of tupelo trees growing along the rivers and surrounding swamps. This area is the only place in the world that produces tupelo honey commercially.
Tupelo has been called one of the sweetest honeys on Earth. It's said to have the highest level of fructose of any honey, and doesn't crystalize into grains. A Tupelo Honey Festival is held in Wewahitchka which raises money for scholarships that are awarded to local kids.