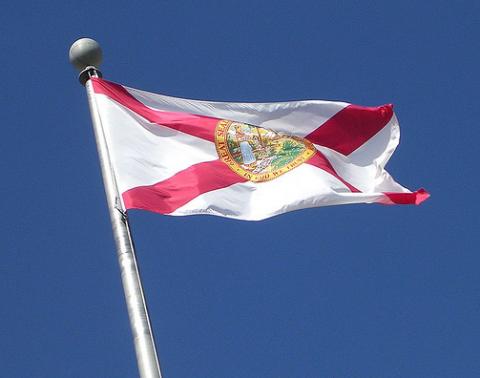 Flag of Florida; photo by Rob Williams on Flickr (noncommercial use permitted with attribution / share alike).
Flag of Florida
The original 1868 flag of Florida was simply the Florida state seal centered on a field of white. In the 1890's, Florida's governor suggested adding the red cross so the flag would not look like a banner of truce or surrender when hanging limp on a flagpole. Florida voters agreed and an amendment to Florida's constitution was made in 1900 which describes the current design.
Many banners have flown over Florida prior to 1868, including the flags of Spain, France, Great Britain, the Confederate States, and the national flag of the USA.
Seal of Florida
The Florida state seal was adopted by the 1865 Legislature, which mandated that the seal be the size of the American silver dollar and display a scene in the center "of the sun's rays over a high land in the distance, a cocoa tree, a steamboat on water, and an Indian female scattering flowers in the foreground, (all) encircled by the words Great Seal of the State of Florida: In God We Trust."
In 1970 Florida's official seal was updated. The cocoa tree became a Sabal palmetto palm (the state tree of Florida), the headdress was removed from the Indian woman (headdresses were only worn by male indians), and the woman was depicted as a Florida Seminole Indian (originally she was a Western Plains Indian).