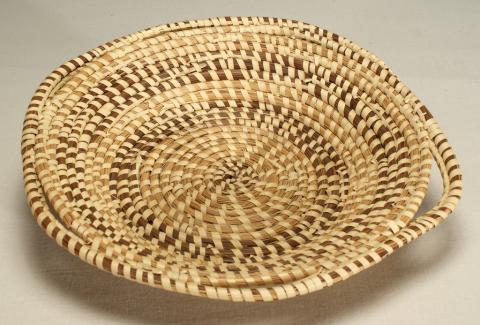 Basket woven from a mix of sea grass, pine, and palmetto; from lowcountry region of South Carolina and Georgia.  Photo by Mathers Museum of World Cultures/Flickr (Noncommercial Use Permitted with Attribution).
Official State Folk Festival of Georgia
The annual North Georgia Folk Festival in Athens was designated the official state folk festival of Georgia in 1992. All State Events
The North Georgia Folk Festival was originally organized by the Georgia 4-H Foundation and the University of Georgia Cooperative Extension. According to Georgia's Secretary of State; "Thousands of delighted Georgians and tourists watch seamstresses spin yarn, blacksmiths hammer horseshoes, basket makers weave strips of white oak, and musicians play fiddles and banjos at the Georgia Folk Festival."