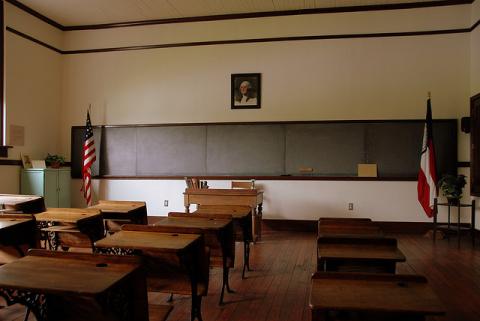 Classroom of Jimmy Carter in Plains High School (notice portrait of first president George Washington); photo by Donna Sullivan Thomson on Flickr (noncommercial use permitted with attribution).
Official State School of Georgia
Plains High School was designated the official state school of Georgia in 1979. Plains High School opened in 1921, was racially integrated in 1966, and served students from Plains, Georgia until 1979. All Cultural Heritage Symbols
The auditorium and library of Plains High School were the only non-denominational meeting facilities in Plains and were used for plays and other community events. The school's rich history of distinguished educators and progressive curriculum earned recognition at state and national levels.
Graduates from the school have made tremendous contributions to Georgia, as well as the world. Notable graduates include President Jimmy Carter and his wife, Rosalynn Smith Carter. Jimmy Carter quoted his Plains High School English teacher, Miss Julia Coleman, in his 1977 inauguration speech and in his 2002 Nobel Peace Prize acceptance speech: "We must adjust to changing times and still hold to unchanging principles."
The school was closed in 1979 as a result of the consolidation of county schools. Through a partnership between the community of Plains, the National Park Service, and the United States Department of the Interior, the school was restored and reopened in 1996 as the main Visitors Center for the Jimmy Carter National Historic Site.