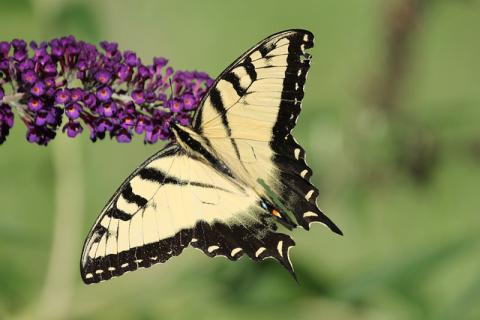 Eastern Tiger Swallowtail by Corey Seeman on Flickr; NonCommercial use permitted with Attribution/ShareAlike
Official State Butterfly of Georgia
Georgia designated the tiger swallowtail (Papilio glaucus) as the official state butterfly in 1988 (Georgia also recognizes a state insect). All State Insects
The lovely eastern tiger swallowtail is one of the most common and widely distributed swallowtail butterflies and is found throughout eastern USA and Canada. The male tiger swallowtail is always the familiar bright yellow with black striped markings. However, some females are dramatically camouflaged - they are dark brown to black, mimicking the poisonous pipevine swallowtail butterfly (which predators know to avoid because it tastes foul and can make them extremely ill).
From Senate Bill No. 449:
WHEREAS, butterflies in their resplendent beauty have fascinated children and adults for ages; and
WHEREAS, the Greeks believed that the butterfly emerging from the chrysalis represented man's metamorphosis from the mortal to the eternal; and
WHEREAS, Mrs. Deen Day Smith, the current President of The Garden Clubs of Georgia, Inc., was inspired by that same metaphor to donate funds in memory of the late Cecil B. Day to build a butterfly center at Callaway Gardens; and
WHEREAS, the Day Butterfly Center which is scheduled to open the latter part of 1988 will stress the importance of conservation of the land and its plants and animals for the enjoyment of present and future generations; and
WHEREAS, it is only fitting and proper that the tiger swallowtail be designated as the official state butterfly.
NOW, THEREFORE BE IN ENACTED BY THE GENERAL ASSEMBLY OF GEORGIA:
The tiger swallowtail is designated as the official Georgia state butterfly.