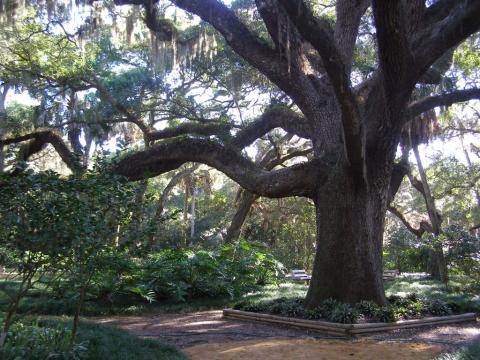 Southern live oak (Quercus virginiana); hung with Spanish moss.  Photo by melystu/Flickr (Noncommercial Use Permitted with Attribution/No Derivative Works).
Official State Tree of Georgia
Georgia designated live oak (Quercus virginiana) as the official state tree in 1937. All State Trees
Coastal towns and cities in the south often have hurricane-resistant live oaks arching over the streets in historic neighborhoods. Live oaks are the iconic southern tree seen on postcards draped in Spanish moss.
Georgia Resolution
Whereas in many of the States of the Union some tree indigenous to the soil of the State has been chosen as an emblem of its sovereignty; and
Whereas hitherto the General Assembly of Georgia has made no such selection; and
Whereas the live-oak, being a tree indigenous to the soil of our State and especially flourishing along the Coastal plains and islands thereof where the first settlers and founders of this State resided, and which tree is so closely associated with our early history, and particularly with the lives of many famous Georgians such as General James Edward Oglethorpe, John Wesley and Sidney Lanier;
Be it therefore resolved by the House of Representatives of Georgia, the Senate concurring, that, at the suggestion and request of Edmund Burke Chapter, Daughters of the American Revolution, the live-oak be and the same is hereby adopted as and declared to be the official tree emblematic of the State of Georgia.