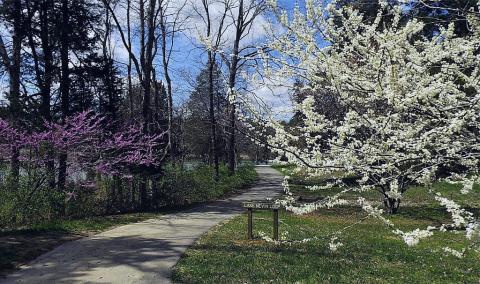 Bernheim Arboretum and Forest; an official symbol of Kentucky.  Photo by Vicky Vinch ON/OFF/Flickr (Noncommercial Use Permitted with Attribution/No Derivative Works).
Official State Arboretum of Kentucky
Kentucky designated Bernheim Arboretum and Research Forest as the official state arboretum in 1994. Its 15,625 acres of land welcome over 250,000 visitors each year. Visitors enjoy trails, programs, and special events. Kentucky also recognizes an official state botanical garden (University of Kentucky Arboretum). All State Arboretums & Plant Symbols
Philanthropist and visionary Isaac W. Bernheim (1848-1945) was a German immigrant who settled in Kentucky and found success in the distilling business. He dedicated Bernheim Arboretum and Research Forest to the people of Kentucky as a gift.
"Bernheim Arboretum and Research Forest uses its' rich landscape of woodlands, wetlands, and grasslands as grounds for discovery, teaching, scientific research as well as connecting art and science. These experiences do more than teach visitors – they enhance our relationship with the natural world and inspire us to be effective stewards of the environment." - quote from Bernheim Arboretum and Research Forest 's website.