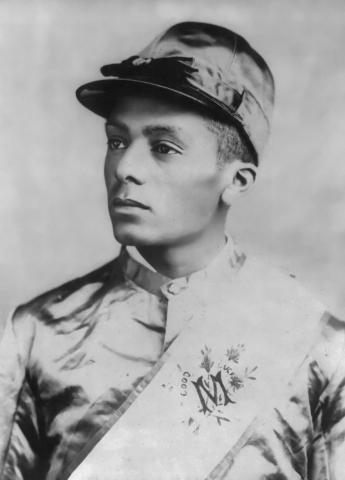 1885 photo of Isaac Murphy (1861 - 1896); one of the most celebrated jockeys in American thoroughbred horse racing history (winning the Kentucky Derby three times!), and one of several African-American jockeys featured in the "And They're Off" exhibit at the Kentucky Center for African American Heritage in Louisville.  Photo by J.H. Fenton/Wikipedia (Public Domain Image).
Celebrating Kentucky's African American Heritage
The "Kentucky Center for African American Heritage" in Louisville was designated "the official center for the celebration of Kentucky's African American heritage" in 2002. All Cultural Heritage Symbols
This contemporary center strives to preserve the traditions and accomplishments of the past by enhancing the public's knowledge about the history, heritage and cultural contributions of African Americans in Kentucky.
Visitors are invited to "explore and celebrate the opulent tapestry of African American life and culture" through activities that include interactive exhibits, poetry readings, concerts, plays, and performances of all types.
Location: 1701 West Muhammad Ali Boulevard, Louisville, KY 40203