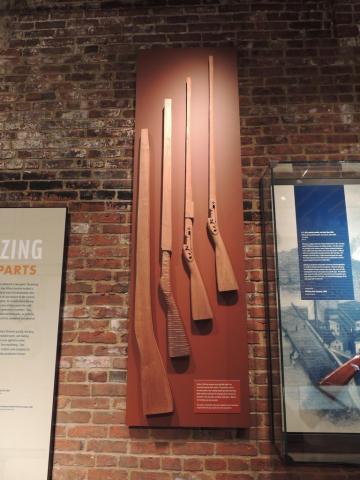 Making of a Kentucky long rifle; display at the Frazier History Museum in Louisville showing how a piece of wood (typically seasoned American black walnut) is transformed into a long rifle stock.  Photo by gorekun/Flickr (Noncommercial Use Permitted with Attribution).
Official State Gun of Kentucky
The Kentucky long rifle was designated as the official gun of the Commonwealth of Kentucky in 2013. Historic long rifles are also state symbols of Indiana, West Virginia, and Pennsylvania. All Military & Firearms Symbols
The "Kentucky Long Rifle" was originally known as the "Pennsylvania Long Rifle" because it was originally developed and produced in Lancaster County, Pennsylvania. Legendary frontiersman Daniel Boone (a native Pennsylvanian born in Berks County), took his Pennsylvania long rifle to Kentucky.