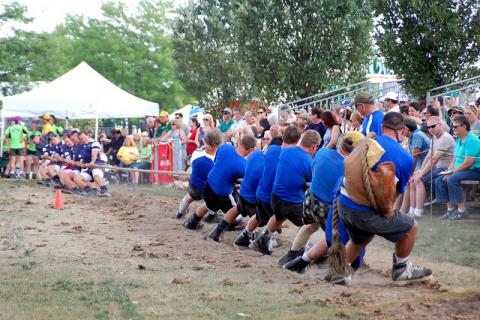 A classic tug-of-war contest; photo by randon letters on Flickr (noncommercial use permitted with attribution / share alike).
Kentucky's Official Tug-of-War Championship
In 1990 Kentucky designated The Fordsville Tug-of-War Championship (in Ohio County, KY) as the official state tug-of-war championship. All State Sports - All State Holidays & Events
Tug-of-war is a simple test of strength and requires just a single piece of equipment - a rope. The objective of tug-of-war is to pull the rope until the opposing team is forced across the center line.
Basic Tug of War Rules
1. A red mark is made in the middle of a rope and 2 white marks are made exactly 13 feet back from the red mark on either side (team members are positioned behind these white marks).
2. Align the rope's red mark with a center line marked on the flat, grassy (or sandy) patch of ground being used as the playing field.
3. Two teams (usually with a maximum of 8 members each, evenly matched in weight) are positioned along the rope behind their respective white marks on the rope.
4. A judge announces "Pick up the rope, then says "Take the string" or "ready" (position yourself for pulling), and finally tells the teams to "Pull" (or uses a whistle for "start pulling").
5. The game is won when the losing side's white mark crosses the center line position on the playing field.
History of Tug of War
The origins of tug of war contests is unknown, though it is certainly ancient. According to the Northern Ireland Tug-of-War Association; "The origins of Tug of War are uncertain, but it is beyond dispute that this once royal sport was practiced in ancient Egypt and China, where it was held in legend that the Sun and Moon played Tug of War over the light and darkness."