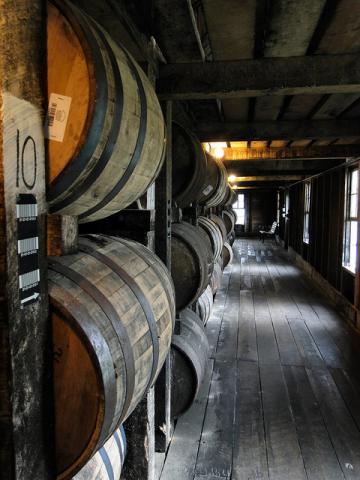 Aging Bourbon at the Heaven Hill distillery in Bardstown, Kentucky; photo by Cindy Cornett Seigle on Flickr (noncommercial use permitted with attribution / share alike).
Kentucky Bourbon Festival
The Kentucky Bourbon Festival in Bardstown, KY was designated as the official state bourbon festival of Kentucky in 2000. From the Kentucky Bourbon Festival website:
The people of Bardstown, Kentucky have been making bourbon since 1776. Their dedication to the fine art of distilling eventually gave Bardstown the title of Bourbon Capital of the World. 
The Kentucky Bourbon Festival is 6 full days of smooth bourbon, delicious food, and great entertainment, with a healthy dose of Kentucky hospitality thrown in for good measure. From black tie galas to historical tours, there is something for all ages and interests. It's a wonderful six-day event full of activities for the whole family. 
Beautiful Bardstown is a historical treasure nestled away in the Kentucky countryside. There are shops, fine restaurants, trains, museums and of course the distilleries that have made Bardstown famous the whole world over.