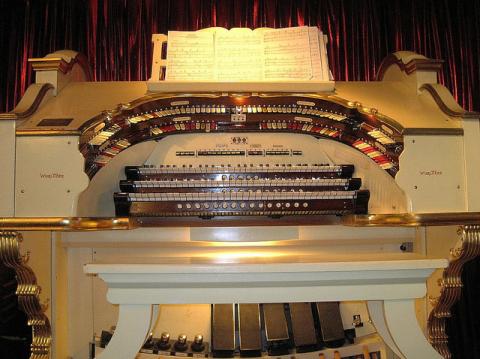 Wurlitzer theater organ (in a museum); photo by Snapshooter46 on Flickr (noncommercial use permitted with attribution / share alike).
Wurlitzer Pipe Organ
Kentucky officially recognized the mighty Wurlitzer theater pipe organ (associated with the Kentucky Theatre) as the state theater pipe organ in 2005. From Kentucky's Mighty Wurlitzer Theater Organ Project:
"The theater organ is a uniquely American musical invention, providing sound accompaniment in the silent era of motion pictures (1910-1932). The theater organ has been described as the "heart and soul" of motion picture houses and movie palaces. Nearly 7,000 theater organs were performing each day when the motion picture screen finally learned to speak in 1927. Soon after, theater organs were abandoned, discarded, sold, given to churches and/or languished for years dormant in their theaters."