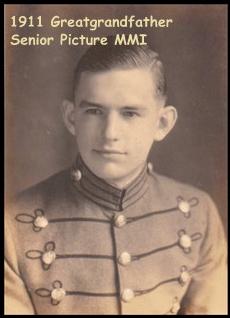 Millersburg Military Institute graduate; 1911 senior picture.  Photo by leetambar/Flickr (Noncommercial Use Permitted with Attribution/Share Alike).
Historic Military Boarding School in Millersburg KY
Millersburg Military Institute was a military boarding school established in 1893 by Colonel C. M. Best, who purchased the property and converted the former Kentucky Wesleyan College building on Main Street into the Millersburg Military Institute.
Col. Best closed the school in 1920, but the citizens of Millersburg established a corporation to continue the military school. The home of Sanford Allen on Main Street was purchased and became the hub of the school. Other buildings were added to the campus later, including a classroom building, a gymnasium, and a chapel.
Millersburg Military Institute became Millersburg Military Academy in 2003 and continued operating as a military boarding school until finally closing in 2006 (after 113 years of operation). In 2008, the Army Cadet Corps purchased the property and opened Forest Hill Military Academy in 2012, but in 2014 that was also closed.
A historic marker (#2407) for Millersburg Military Institute is located at 1122 Main Street. The video below shows that the ornate, historic Allen House (built in 1852) has been completely restored and will be used as a wedding event venue.