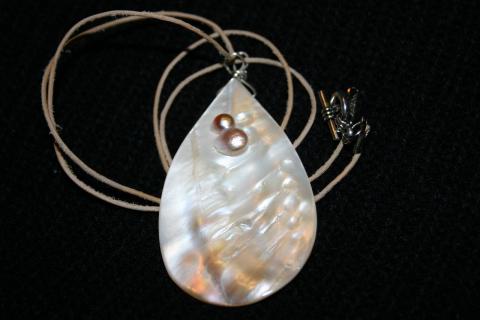 Oyster shell pendant; handmade jewelry with cabochon cut and polished oyster shell.  Photo by Rachel/Flickr (Noncommercial Use Permitted with Attribution/No Derivative Works).
Official State Gemstone of Louisiana
Louisiana designated cabochon cut oyster shell as the official state gemstone in 2011 (cabochon cut refers to a shaped and polished gemstone, vs. a faceted cut). All State Gems & Gemstones
Cut and polished Louisiana oyster shells (Crassostrea virginica mollusk) are considered to be a gemstone.  This oyster species is plentiful off the Louisiana coast. Quote from legislation:
"There shall be an official state gemstone. The official state gemstone shall be the cabochon cut gemstone, derived from the Crassostrea virginica mollusk predominantly found in the waters of coastal Louisiana."