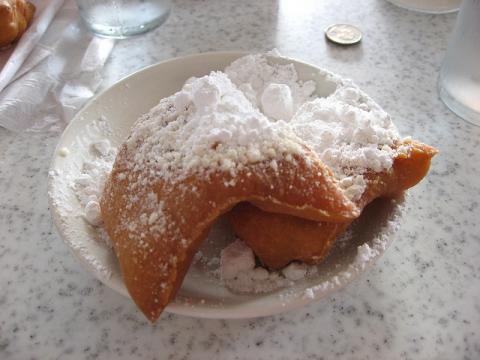 Beignets in French Quarter of New Orleans, Louisiana; photo by beautifulcataya on Flickr (noncommercial use permitted with attribution / no derivative works).
Beignet
In 1986, the Louisiana legislature officially designated the beignet (pronounced "ben_yay") as the state doughnut of Louisiana. This was a way to celebrate the state's unique culture and cuisine. Today, beignets can be found at restaurants and cafes throughout Louisiana, and they are a popular souvenir for visitors to the state.
The beignet is a fried dough pastry that is popular in Louisiana. It is made from a simple dough of flour, water, sugar, and yeast, which is deep-fried and then dusted with powdered sugar. Beignets are often served for breakfast or as a snack, and they can be enjoyed plain or with a variety of toppings, such as chocolate sauce, fruit preserves, or maple syrup.
The beignet is believed to have originated in France, where it is known as a "bugne." It was brought to Louisiana by French colonists in the 18th century, and it quickly became a popular pastry in the region. Beignets were often served at Mardi Gras celebrations, and they became a symbol of the city of New Orleans.
Beignet Recipe
Ingredients:
2 tablespoons warm water (105 ° F)
½ teaspoon active dry yeast
2 teaspoons vegetable shortening
1 tablespoon sugar (plus a pinch for yeast proofing)
3 tablespoons whole milk
1 large egg white
3 tablespoons boiling water
1 ¼ cups all-purpose flour (plus extra for rolling)
Pinch of salt
2 cups neutral oil (for frying, I use canola)
1 cup powdered sugar

Instructions:
In a small bowl, combine the warm water and yeast. Add a pinch of sugar and let it sit for about 5 minutes until it becomes frothy.
In a medium bowl, mix together the flour, salt, and sugar.
In another small bowl, whisk together the egg white and milk.
Add the yeast mixture and egg mixture to the flour mixture and stir until it forms a dough.
Knead the dough on a floured surface until it becomes smooth.
Place the dough in a greased bowl and cover it with plastic wrap. Let it rise in a warm place for about an hour.
Heat the oil in a large pot over medium-high heat.
Roll out the dough on a floured surface until it is about ¼ inch thick.
Cut the dough into squares or circles.
Fry the beignets in batches until they are golden brown on both sides.
Remove them from the oil with a slotted spoon and place them on paper towels to drain.
Dust them with powdered sugar before serving.

Enjoy your beignets!