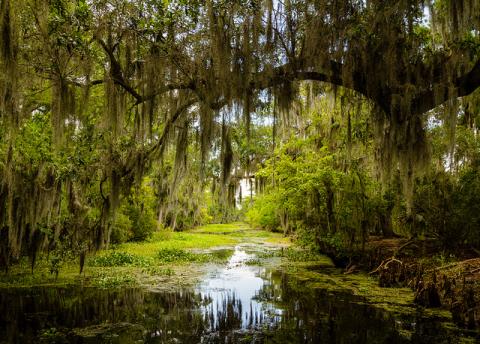 Swamp in Louisiana (outside New Orleans); photo by The Q Speaks on Flickr (noncommercial use permitted with attribution / share alike). 
I am Louisiana
by Paul Ott
Louisiana designated "I am Louisiana," by Paul Ott as the official state cultural poem in 2006:
I'm Spanish moss on a live oak tree
Cajun fried shrimp and a cypress knee.
I'm Bienville, Captain Shreve, Beauregard, Zack Taylor and Jean Lafitte.
I'm New Orleans, the land of dreams Creole cookin' and a Mardi Gras king.
I'm a thoroughbred racin' at Louisiana Downs,
Avery Island and a Catahoula hound.
I'm the Louisiana Hayride and the birth of the blues,
The Evangeline, Chickory Coffee and Baton Rouge.
I'm when the Saints Go Marchin' In the Superdome,
The Atchafalaya and an old plantation home.
I'm jambalaya, a catfish fry and a filet gumbo,
A sugar cane patch, Pete Fountain, French Quarter and Satchmo.
Well, I'm the Mississippi River as it rounds the bend.
I am Louisiana. Ya'll Come Back Again.