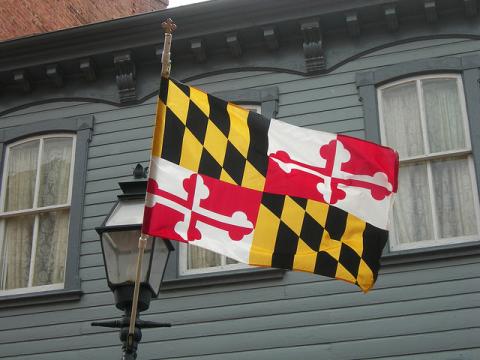 Maryland state flag waving in Annapolis, Maryland; photo by Jimmy Emerson DVM on Flickr (noncommercial use permitted with attribution / no derivative works).
Official State Flag of Maryland
The state flag of Maryland was officially adopted in 1904. All State Flags
The Maryland flag bears the arms of the Calvert and Crossland families (also seen on Maryland's state seal). Calvert was the family name of the Lords Baltimore who founded Maryland, and their colors of gold and black appear in the first and fourth quarters of the flag (and on several of Maryland's state symbols; the state flower, state bird, state insect, and even the state cat).
Crossland was the family of the mother of George Calvert, first Lord Baltimore. The red and white Crossland colors, with a cross bottony, appear in the second and third quarters. The flag was first flown on October 11, 1880 in Baltimore at a parade marking the 150th anniversary of the founding of Baltimore. It was also flown on October 25, 1888, at the Gettysburg Battlefield for ceremonies dedicating monuments to Maryland regiments of the Army of the Potomac.