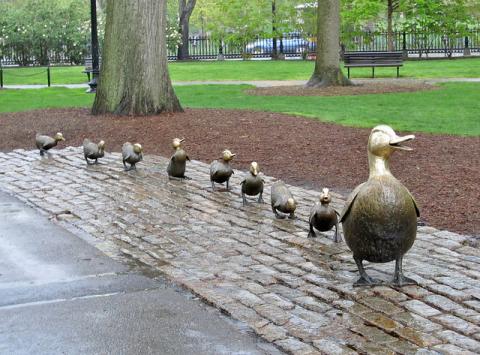 Make Way for Ducklings sculpure in Boston Public Garden; photo by Lorianne DiSabato on Flickr (noncommercial use permitted with attribution / no derivative works).
Official Children's Book of Massachusetts
"Make Way for Ducklings" was designated the official children's book of Massachusetts in 2003. The third grade class at the Dean S. Luce Elementary School in Canton were responsible for gaining sponsorship for the legislation. All Massachusetts Symbols
"Make Way for Ducklings" is a picture book written and illustrated by Robert McCloskey and first published in 1941. The book tells the story of a pair of mallard ducks who decide to raise their family on an island in Boston Public Garden's lagoon (Boston Public Garden is a park in the center of the city).