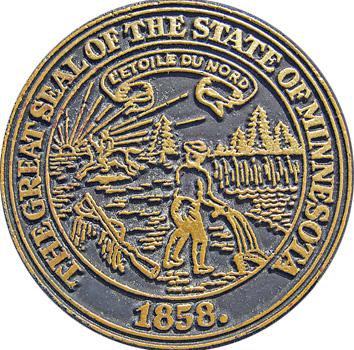 State seal of Minnesota at scenic overlook outside of Granite Falls; photo by Drew Bennett (BenSpark) on Flickr (noncommercial use permitted with attribution / share alike).
Official State Seal of Minnesota
The official state seal of Minnesota also appears on the state flag. It features the French motto; "l'étoile du nord," which means "the star of the North" (the state motto and the basis for Minnesota's nickname: "The North Star State"). All State Seals
Symbols on the Seal of Minnesota
The sun on the western horizon signifies the flat plains covering much of Minnesota.
The native American on horseback represents the native American heritage of Minnesota.
The tools: the native American's horse and spear, and the pioneer's axe, rifle, and plow represent tools that were used for hunting and labor.
The stump is a symbol of the importance of the lumber industry in Minnesota.
The Mississippi River and St. Anthony Falls note the importance of these resources in transportation and industry.
The cultivated ground and the plow symbolize the importance of agriculture in Minnesota.
Trees: beyond the falls, three pine trees represent the state tree and the three great pine regions of Minnesota–St. Croix, Mississippi, and Lake Superior.