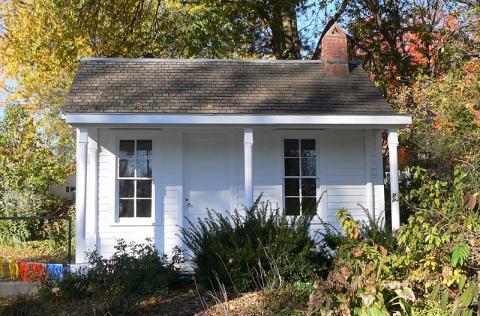 John G. Neihardt study at John G. Neihardt State Historic Site in Bancroft, Nebraska (the study is listed in the National Register of Historic Places); photo by Ammodramus on Wikimedia (public domain image).
John G. Neihardt
Nebraska designated John G. Neihardt (1881-1973) as the state's Poet Laureate in 1921. 
Neihardt published his first book of poetry in 1908. In 1912 he began writing The Epic Cycle of the West - five long narrative poems which became his chief literary work and his most substantial, unique contribution to the history of Nebraska and the West.
Other Nebraska Poets
Nebraska also designated William Kloefkorn (1932-2011) as official state poet in 1982, and another Nebraskan (Ted Kooser) ,was named U.S. Poet Laureate for 2004-2006 by the Library of Congress.