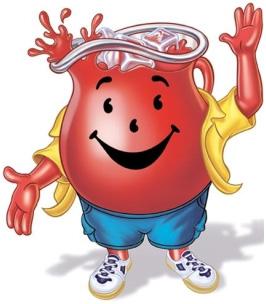 [file:field-file-name-of-photo]; [file:field-file-main-description].  Photo by [file:field-file-photographer]/[file:field-file-source] ([file:field-file-license]).
Kool-Aid
Nebraska designated Kool-Aid as the official state soft drink in 1998. Kool-Aid is an artificially fruit-flavored powder developed in 1927 by Edwin E. Perkins and his wife Kitty of Hastings, Nebraska (Edwin was founder and president of the Perkins Products Company). Hastings sponsors a yearly festival called Kool-Aid Days in August to honor their city's claim to fame. Kool-Aid brand is now owned by the Kraft Foods Company.
Before the current powder form, Kool-Aid was a soft drink concentrate known as Fruit Smack. Fruit Smack was very popular but the glass bottles proved difficult to transport without being broken. That's when Perkins decided to develop the powder form which he original called Kool-Ade.
Kool-Aid's mascot and logo is Kool-Aid Man, a character with the body of a large frosty glass pitcher filled with Kool-Aid (usually cherry). He was introduced in Kool-Aid advertising shortly after General Foods acquired the brand in 1953. In Television and printed ads, Kool-Aid Man was known for bursting suddenly through walls while children were making or drinking Kool-Aid to say his catch phrase: "Oh, yeah!"
The original six Kool-Aid flavors are Raspberry, Cherry, Grape, Lemon, Orange, and Root-Beer. Today the assortment of flavors available worldwide also includes:
Apple
Berry Blue
Black Cherry
Bunch Berry
Cherry Cracker 
Chocolate
Golden Nectar
Cola
Cranberry
Eerie Orange
Frutas
Frutas Vermilhas
Grape Blackberry
Great Bluedini
Grosella
Guaraná
Kolita
Lemonade
Orange Enerjooz
Grapeberry Splash
Incrediberry
Kickin-Kiwi-Lime
Lemon-Lime
Man-o-Mangoberry
Mountainberry Punch
Oh-Yeah Orange-Pineapple
Pina-Pineapple
Pink Lemonade
Pink Swimmingo
Purplesaurus Rex
Rainbow Punch
Raspberry
Roarin' Raspberry
Rock-a-dile Red
Scary Black Cherry
Scary Blackberry
Sharkleberry Fin
Lemonade Sparkle
Strawberry
Strawberry Falls Punch
Strawberry Split
Strawberry-Raspberry
Sunshine Punch
Surfin' Berry Punch
Tangerine
Tropical Punch
Watermelon
Watermelon-Cherry
Soarin' Strawberry-Lemonade
Slammin' Strawberry-Kiwi
Nebraska also recognizes milk as the state beverage, acknowledging the importance of the dairy industry to Nebraska's agricultural economy.